Ad blocker interference detected!
Wikia is a free-to-use site that makes money from advertising. We have a modified experience for viewers using ad blockers

Wikia is not accessible if you've made further modifications. Remove the custom ad blocker rule(s) and the page will load as expected.
VG Best selling games developed or published by Sony Computer Entertainment.
Sony has about three times as many internal game development studios as Microsoft. SCE Worldwide Studios includes Team ICO, Gran Turismo house Polyphony Digital, God of War developer Sony Santa Monica, Wipeout house Studio Liverpool, MotorStorm creator Evolution Studios, and several more top-tier game developers.[1]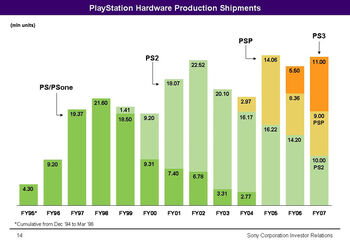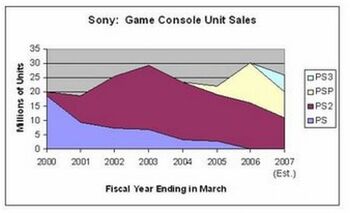 Gran Turismo 3: A-Spec (14.89 million) [2]
Gran Turismo 5 (11.95 million) [2]
Gran Turismo 4 (11.73 million) [2]
Gran Turismo II (9.37 million) [2]
Last of Us (8.0 million+) [3]
Uncharted 3 (6.6 million) [4]
Uncharted 2 (6.5 million) [4]
Gran Turismo 6 (5.01 million) [2]
Uncharted (4.8 million) [4]
Gran Turismo PSP (4.65 million) [2]
EyeToy (4 million)[5]
Ratchet and Clank (3.6 million)[6]
Motorstorm (3.3 million)[7]
Ratchet and Clank 3 (3.2 million)[8]
The Getaway (3 million)[9]
inFAMOUS (2,9 million )
Uncharted 4 (2.7 million) [10]
inFAMOUS Second Son (2.7 million)
SOCOM (2.65 million)[11]
Resistance: Fall of Man (2.5 million)[12]
God of War (2.33 million)[13]

inFAMOUS 2 (2,2 million)

God of War II (2 million)[14]
Sly 2: Band of Thieves (1.81 million)

*

Gran Turismo 4 Prologue (1.36 million shipped)
Sly Cooper and the Thievius Racconus (1.21 million)

*

Hot Shots Golf 3 (1 million)[15]
Hot Shots Golf: Open Tee (1 million)[16]
Wipeout Pure (1 million)[17]
Motorstorm: Pacific Drift (1 million)[18]
Ratchet & Clank Future: Tools of Destruction (1 million)[19]
LittleBigPlanet
Killzone 2
Gran Turismo (76 million) [2]
Crash Bandicoot (40 million) (former publisher)
Ratchet and Clank (26 million)[21]
God of War (21 million)[22]
Spyro the Dragon (20 million) (former publisher)
SingStar (12 million in PAL)
Everybody's Golf / Hot Shots Golf (7.5 million)
Jak and Daxter (7.5 million)
SOCOM (7 million)
EyeToy (6.7 million)
Buzz! (6 million)
Sly Cooper (5.43 million)

*

Twisted Metal (5 million in North America) [23]
ATV Offroad Fury (5 million)
References
Edit