Metal Gear Solid is a stealth-action series created by Konami. The franchise has sold over 40 million copies worldwide, making it one of the best selling franchises. With a high development costs, it is one of the most expensive games ever made.
Sales data from List of best-selling video games (Wikipedia)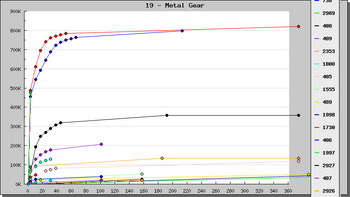 Year
Platform
Title
Sales
(in Millions)
1998
PS1
Metal Gear Solid
2001
PS2
Metal Gear Solid 2: Sons of Liberty
2004
PS2
Metal Gear Solid 3: Snake Eater
2004
NGC
Metal Gear Solid: Twin Snakes
49,000 in Japan
2008
PS3
Metal Gear Solid 4: Guns of the Patriots
4.3 million worldwide[1]
2014
Metal Gear Solid V: Ground Zeroes
2015
Metal Gear Solid V: The Phantom Pain
6 million[2]
Metal Gear Solid sales
Edit
Metal Gear Solid on the original Playstation was a commercial success, shipping over 6 million copies worldwide. Upon release, it topped sales charts in the United Kingdom and sold 316,833 units in Japan
Metal Gear Solid 2 sales
Edit
The sequel on the PS2 sold over 7 million copies worldwide and 798K in Japan alone. First week sales in the Eastern Land were 456,747 units.
Metal Gear Solid 3 sales
Edit
This prequel released in late 2004 managed 3.6 million sales globally and 819K in Japan. First week sales were 487,156
Metal Gear Solid: Twin Snakes
Edit
A MGS1 remake for the Nintendo GameCube, the game failed to sell more than a million copies. Only 46,906 units were sold in Japan
Metal Gear Solid 4 sales
Edit
Metal Gear Solid 4 is a Playstation 3 exclusive game released worldwide on June 12, 2008. The game earned perfect 10 reviews from reputable sources and analysts expected the game to lift PS3 sales.
In the UK, the Konami title charted at #1 and became the 2nd fastest selling PS3 game (following GTA IV) and 2K ahead of GT5: Prologue. MGS4 beat MGS3 by 24,000 units, but fell 14,000 units short of overturning the launch week sales of the now legendary MGS2.[1] Despite these high sales, the game only had a minimal effect on PS3 sales.[2] Week one's sales figures was 122K followed by 50K for the second week. One million units were sold in Europe after one week.[3]
In Japan, MGS4 had one of the highest weekly totals by selling 476,334 copies in 4 days and 300K alone on its first day, including bundles and collector's editions. In just 4 days, the game became the best selling title in Japan, beating out Minna No Golf 5 which had almost 400K LTD. The launch attach rate is a little over 0.2 (1/5 of PS3 owners purchased the game). In contrast to the UK's release (and GTA4's monstrous sales), the game boosted PS3 sales by 700% to 77K units for the week.[4] Sales dropped to 67K in its second week.
References
Edit