Best selling games developed or published by Microsoft Game Studios.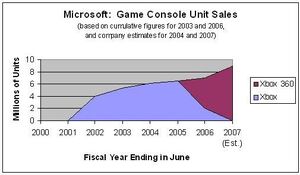 Halo 3 (13.5 million)
Halo Reach
Halo 4
Halo 2 (8.5 million)
Halo: Combat Evolved (5.5 million)
Gears of War (4.7 million)
Fable (3 million, may include Mac OS X and PC)
Project Gotham Racing (2.5 million)
Forza Motorsport 2 (2.274 million approximately: 2.23 million in US,
Crackdown (1.5 million)
Perfect Dark Zero (1.5 million)
Uno (1 million)
Age of Empires (3 million)

Age of Empires: The Rise of Rome (1 million)
Age of Empires III (2.5 million)
Age of Empires II: The Age of Kings (2 million shipped)
Age of Mythology (1 million)
Zoo Tycoon (1.1 million in US)
References
Edit
Ad blocker interference detected!
Wikia is a free-to-use site that makes money from advertising. We have a modified experience for viewers using ad blockers

Wikia is not accessible if you've made further modifications. Remove the custom ad blocker rule(s) and the page will load as expected.