Ad blocker interference detected!
Wikia is a free-to-use site that makes money from advertising. We have a modified experience for viewers using ad blockers

Wikia is not accessible if you've made further modifications. Remove the custom ad blocker rule(s) and the page will load as expected.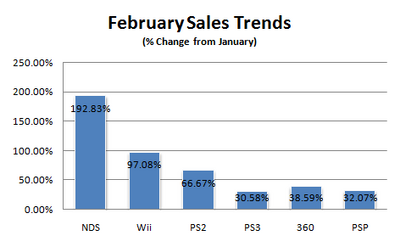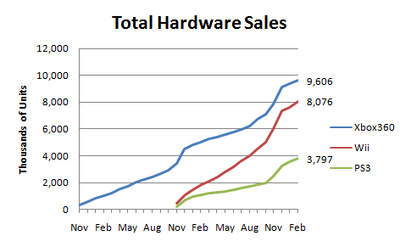 Another world shattering NPD sales data report. It's becoming so commonplace it's easy to forget how historic these numbers are. Coverage: Feb 3 - March 1
The hardware is stellar as well. Units were up 19% to over 2.1M systems combined (and that's compared to last year which was up 60% over the prior year). The "less technically advanced" systems were phenomenal. DS, PS2, & Wii all showed remarkable level of sales. 360 & PS3 sold quite well and their sales are quite respectable, but compared to the other systems don't seem to impress quite as much.
Video game revenues
Edit
Software: $668.7m (+47% (YOY)
Hardware: $480.0 million (+19%)
Accessories: $185.3m (+36%)
Total Games: $1.33 billion (+34%)
Hardware sales
Edit
Nintendo DS - 587.6K (from 251K)
Wii - 432K (from 274K)
PlayStation 2 - 351.8K
PlayStation 3 - 280.8K (from 269K)
Xbox 360 - 254.6K (from 230K)
PSP - 243.1K (from 230K)
Top 10 software sales
Edit
360 CALL OF DUTY 4: MODERN WARFARE*: 296.2K
360 DEVIL MAY CRY 4*: 295.2K
WII PLAY W/ REMOTE: 289.7K
PS3 DEVIL MAY CRY 4*: 233.5K
WII GUITAR HERO III: LEGENDS OF ROCK*: 222.9K
NDS MARIO AND SONIC: OLYMPIC GAMES: 205.6K
360 LOST ODYSSEY: 203.6K
360 TUROK: 197.7K
PS2 GUITAR HERO III: LEGENDS OF ROCK*: 183.8K
360 ROCK BAND: 161.8K
Guitar Hero III: Legends of Rock* (360) [99.9K - 161.8K]
Call of Duty 4: Modern Warfare (PS3) [99.9K - 161.8K]
Super Mario Galaxy (Wii) [99.9K - 161.8K]
New Super Mario Bros. (NDS) [99.9K - 161.8K]
Mario and Sonic at the Olympic Games (Wii) [99.9K - 161.8K]
Carnival Games (Wii) [99.9K - 161.8K]
Mario Party DS (NDS) [99.9K - 161.8K]
Rock Band* (PS2) [99.9K - 161.8K]
Game Party (Wii) [99.9K - 161.8K]
Frontlines: Fuel of War (360) 99.9K
Other sales figures
Edit
From simExchange
Frontlines: Fuel of War (360) 99,900
Mario Kart DS - [91K - 99.9K]
Brain Age DS - [91K - 99.9K]
Professor Layton and the Mysterious Village (DS) – 91k
Advance Wars: Days of Ruin (DS) – 50.3k
No More Heroes (Wii) – 37k
Dragon Quest Swords: The Masked Queen and the Tower of Mirrors (Wii) – 15k