See also: NPD 2007 in review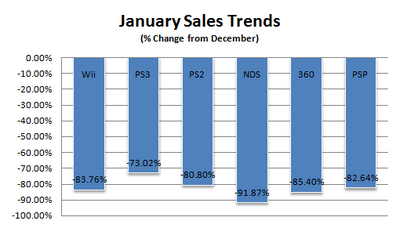 NPD sales data for January 2008 (Jan 6 to Feb 2)
Xbox 360 hardware shortages due to NPD:December 2007 high sales, says Microsoft.[1] Same issue with the Wii console.
Hardware sales
Edit
Top 10 software
Edit
Call of Duty 4: Modern Warfare (Xbox 360, Activision) - 330.9K
Wii Play w/remote (Wii, Nintendo) - 298.1K
Guitar Hero III: Legends of Rock w/guitar (Wii, Activision) - 239.6K
Rock Band (Xbox 360, MTV/Harmonix) - 183.8K
Guitar Hero III: Legends of Rock w/guitar (Xbox 360, Neversoft/Activision) - 182.7K
Super Mario Galaxy (Wii, Nintendo) - 172K
Burnout Paradise (Xbox 360, EA) - 144.1K
Call of Duty 4: Modern Warfare (PS3, Activision) - 140K
Mario Party DS (DS, Nintendo) - 138.5K
Mario & Sonic at the Olympic Games (DS, Sega) - 133K
Other sales figures
Edit
More software culled from various sources (thanks Raw64Life from NeoGAF):
January 08:
WII CARNIVAL GAMES - ~80K
WII NO MORE HEROES - ~65K
WII RESIDENT EVIL: UMBRELLA CHRONICLES - ~30K
NDS ADVANCE WARS DAYS OF RUIN - ~80K
PS3 UNCHARTED - ~55K
PS3 BURNOUT PARADISE - ~85K
360 KINDGOM UNDER FIRE - ~50K
360 HALO 3 - ~127K
PS3 Rock Band - failed to make Top 25 (Microsoft press release)
Video game revenues
Edit
Video Games: $1.18 billion -6%
Video Games Hardware: $378 million -25%
Video Games Software: $550 million +11%
Video Game Accessories: $191 million -4%
Total Sales Per Week: $295 million +18%
External links
Edit
Ad blocker interference detected!
Wikia is a free-to-use site that makes money from advertising. We have a modified experience for viewers using ad blockers

Wikia is not accessible if you've made further modifications. Remove the custom ad blocker rule(s) and the page will load as expected.