Ad blocker interference detected!
Wikia is a free-to-use site that makes money from advertising. We have a modified experience for viewers using ad blockers

Wikia is not accessible if you've made further modifications. Remove the custom ad blocker rule(s) and the page will load as expected.
See also: NPD 2007 in review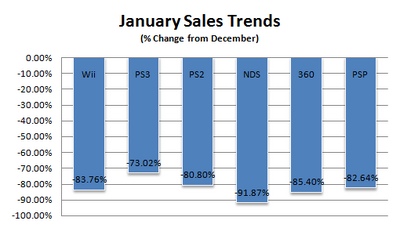 NPD sales data for January 2008 (Jan 6 to Feb 2)
Xbox 360 hardware shortages due to NPD:December 2007 high sales, says Microsoft.[1] Same issue with the Wii console.
Hardware sales
Edit
Top 10 software
Edit
Call of Duty 4: Modern Warfare (Xbox 360, Activision) - 330.9K
Wii Play w/remote (Wii, Nintendo) - 298.1K
Guitar Hero III: Legends of Rock w/guitar (Wii, Activision) - 239.6K
Rock Band (Xbox 360, MTV/Harmonix) - 183.8K
Guitar Hero III: Legends of Rock w/guitar (Xbox 360, Neversoft/Activision) - 182.7K
Super Mario Galaxy (Wii, Nintendo) - 172K
Burnout Paradise (Xbox 360, EA) - 144.1K
Call of Duty 4: Modern Warfare (PS3, Activision) - 140K
Mario Party DS (DS, Nintendo) - 138.5K
Mario & Sonic at the Olympic Games (DS, Sega) - 133K
Other sales figures
Edit
More software culled from various sources (thanks Raw64Life from NeoGAF):
January 08:
WII CARNIVAL GAMES - ~80K
WII NO MORE HEROES - ~65K
WII RESIDENT EVIL: UMBRELLA CHRONICLES - ~30K
NDS ADVANCE WARS DAYS OF RUIN - ~80K
PS3 UNCHARTED - ~55K
PS3 BURNOUT PARADISE - ~85K
360 KINDGOM UNDER FIRE - ~50K
360 HALO 3 - ~127K
PS3 Rock Band - failed to make Top 25 (Microsoft press release)
Video game revenues
Edit
Video Games: $1.18 billion -6%
Video Games Hardware: $378 million -25%
Video Games Software: $550 million +11%
Video Game Accessories: $191 million -4%
Total Sales Per Week: $295 million +18%
External links
Edit