Ad blocker interference detected!
Wikia is a free-to-use site that makes money from advertising. We have a modified experience for viewers using ad blockers

Wikia is not accessible if you've made further modifications. Remove the custom ad blocker rule(s) and the page will load as expected.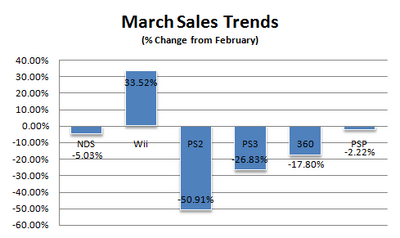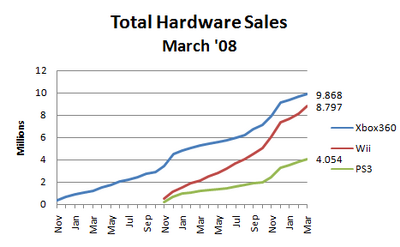 NPD for March 2008, March 2008 was a 5 week month. (March 2 - April 5)
721,000 for Wii, possibly a record for a single month in a non-holiday, non-launch month.
According to analyst, Pachter: "Except for Decembers, the sales figure for March was the second highest level ever achieved. This is important enough to say again: March 2008 sales exceeded every month's level in U.S. history except for the last 10 Decembers and except for November 2007."[1]
Revenues and sales
Edit
Total Video Games $1.7B 57%
Video Games Hardware $551.3M 46%
Video Games Software $945.6M 63%
Video Game Accessories $220M 58%
Hardware sales
Edit
Wii - 721K
Nintendo DS - 698K
PlayStation Portable - 297K
Xbox 360 - 262K
PlayStation 3 - 257K
PlayStation 2 - 216K
Software sales
Edit
Super Smash Bros. Brawl (Wii) - 2.7 million
Tom Clancy's Rainbow Six Vegas 2 (Xbox 360) - 752.3K*
Army of Two (Xbox 360) - 606.1K
Wii Play w/ remote (Wii) - 409.8K
God of War: Chains of Olympus (PSP) - 340.5K
Crisis Core: Final Fantasy VII (PSP) - 301.6K
Guitar Hero III: Legends of Rock (Wii) - 264.1K
Major League Baseball 2K8 (Xbox 360) - 237.1K
Call of Duty 4: Modern Warfare (Xbox 360) - 237K*
Army of Two (PS3) - 224.9K
MLB 08 The Show (PS3) - [155K-224K]
Mario and Sonic (NDS) - [155K-224K]
Mario Party (NDS) - [155K-224K]
Guitar Hero III (PS2) - [155K-224K]
MLB'08:THE SHOW (PS2) - [155K-224K]
Tom Clancy's Rainbow Six: Vegas 2 (PS3) - 154.7K
Carnival Games (Wii) - [122K-154K]
New Super Mario Bros (NDS) - [122K-154K]
Game Party (Wii) - [122K-154K]
Naruto Ninja 3 (PS2) - [122K-154K]
Other sales figures
Edit
Some more software numbers from simExchange
[360 Guitar Hero III] = 121.2K
[360 Lost Odyssey] = 65K
[NDS FFCC: Rings of Fate] = 67.3K
[PS3 Hot Shots Golf 5] = 36.2K
[PS3 Rainbow Six Vegas 2] = 154.7K
PS3 Guitar Hero III = [25K-91K]
Some more numbers from IGN:
Call of Duty 4 PS3+360 = 390k
Rock Band PS3+360 = 300k
Guitar Hero 3 All versions = 631k
MLB 2K8 All versions = 415k
Rough LTDs:
360 CALL OF DUTY 4: MODERN WARFARE: ~3.9 million
360 LOST ODYSSEY: ~270K
WII GUITAR HERO III: ~2 million
LTDs: (US only)
360: 9.899.956
Wii: 8.796.959
PS3: 4.050.286
PS2: 41.900.000
NDS: ~19.1 million
PSP: ~11.3 million
Wii Play: 5.110.757
SSBB: 2.700.000
GHIII: 1.984.100
COD IV: 3.899.504
Software Top 10 totals. (units sold)
Wii 3,373,900
360 1,832,500
PS3 224,900