November 2005 NPD sales figures coverage: October 30 to November 26.
The Seventh generation started in November 2005 with the release of the Xbox 360. The system was able to sell 326.000 units in its first five days on the market (it was released on November 22). Thats a setback compared to the first week sales of the original Xbox, which sold 550.000 units in November 2001. However this relatively low number is very likely due to the small amount of consoles Microsoft could offer in November 2005 as some retailers couldn't even supply all the pre orders. Microsoft's corporate vice president Peter Moore said that they are "trying to get as many units to retail as we possibly can." [1] The biggest software release for the Xbox 360 was Call of Duty 2 selling, with an attach rate of impressive 77%, 251.000 units. Other best selling titles on the Xbox 360 were Madden NFL 2006 (178.000, 55% attach rate) and Need for Speed: Most Wanted (108.000, 33% attach rate).[2]
In general software sales saw a year-over-year drop of 18% with a revenue of only $696 million down from $849 million in 2004.[3] The lack of best sellers like - in 2004 - Grand Theft Auto: San Andreas, Halo 2 and Metal Gear Solid 3: Snake Eater and so having no software title on an individual platform selling over 500.000 units in November 2005 is an explanation for this trend. Best selling game of the month was Star Wars: Battlefront 2, which gained the first two spaces both by units and by revenue and sold 467.000 units on the original Xbox and 447.000 on the Playstation 2.[2]
Notable Releases
Edit
Xbox 360 console
Star Wars: Battlefront 2
Hardware sales
Edit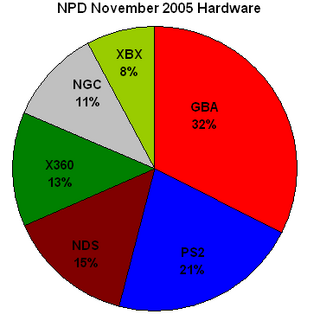 * rounded numbers
Software sales
Edit
Star Wars: Battlefront II (XBX) 467k
Star Wars: Battlefront II (PS2) 447k
Call of Duty 2 (X360) 251k
Madden NFL 06 (PS2) 222-251k
Mario Kart (NDS) 222k
WWE Smackdown! vs Raw 2 (PS2) 208-222k
Grand Theft Auto: Liberty City Stories (PSP) 208k
Madden NFL 06 (X360) 178k
Tony Hawks: American Wasteland (PS2) 108-178k
Mario Party 7 (NGC) 108-178k
Call of Duty 2: Big Red One (PS2) 108-178k
50 Cent: Bulletproof (PS2) 108-178k
Blitz: The League (PS2) 108-178k
Ratchet: Deadlocked (PS2) 108-178k
NBA Live 06 (PS2) 108-178k
Soul Calibur III (PS2) 108-178k
Dragon Ball Z: Budokai Tenkaichi (PS2) 108-178k
Need for Speed: Most Wanted (PS2) 108-178k
Need for Speed: Most Wanted (X360) 108k
Star Wars Battlefront II (PSP) < 108k
For more sales data/charts visit http://www.gfdata.de/archiv12-2005-gamefront/01596.html
References
Edit
Ad blocker interference detected!
Wikia is a free-to-use site that makes money from advertising. We have a modified experience for viewers using ad blockers

Wikia is not accessible if you've made further modifications. Remove the custom ad blocker rule(s) and the page will load as expected.