NPD sales data coverage:
Notable releases
Edit
Hardware sales
Edit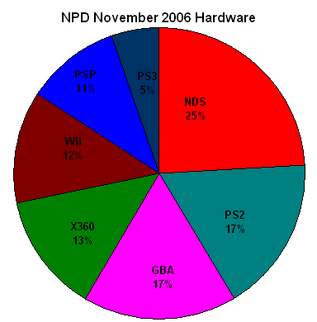 Top 10 software sales
Edit
Gears of War - Microsoft 1mm units (Includes Collectors's Edition )
Final Fantasy XII - Square Enix 896K units
The Legend of Zelda: Twilight Princess - NOA 412K units
Guitar Hero 2 w/ Guitar - Activision 356K units
WWE Smackdown vs. Raw 2007 - THQ 348K units
Call of Duty 3 - Activision 333K units
Madden NFL 2007 - EA 250K units
Need for Speed: Carbon - EA 237K units
Nintendogs: Dalmation & Friends - NOA 219K units
Pokemon Ranger - NOA 206K units
Marvel:Ultimate Alliance PS2
Socom:U.S. Navy Seals Combined Assault PS2
Final Fantasy III NDS
Dragon Ball Z:Budokai Tenkaichi 2 - PS2 
Guitar Hero 2 PS2
Scarface:The World Is Yours PS2
Yoshi's Island 2 NDS
Need For Speed: Carbon 360
Need For Speed:Carbon Xbox
Other sales
Edit
Video game revenues
Edit
External links
Edit
Ad blocker interference detected!
Wikia is a free-to-use site that makes money from advertising. We have a modified experience for viewers using ad blockers

Wikia is not accessible if you've made further modifications. Remove the custom ad blocker rule(s) and the page will load as expected.