Ad blocker interference detected!
Wikia is a free-to-use site that makes money from advertising. We have a modified experience for viewers using ad blockers

Wikia is not accessible if you've made further modifications. Remove the custom ad blocker rule(s) and the page will load as expected.
October 2008 NPD sales data coverage: October 5 to November 1. Released on November 13, 2008.
Wii sales of 803,000 is the largest non-holiday NPD month for any console. Altogether, the video games industry grew an impressive 18% year-over-year in the first month of the critical fourth quarter. After October's NPD, Xbox 360 took the lead over the PS3 in YTD sales. Guitar Hero World Tour sold about 534K combining all SKUs. Wii Music had a poor debut compared to the other titles in the Wii Series franchise, selling a disappointing 81,000 units. LittleBigPlanet, as a new IP and a late October release, had a solid debut with sales of 215,000. In addition, the Xbox 360 the only system with third-party titles charting.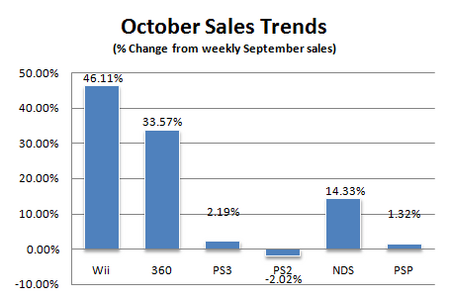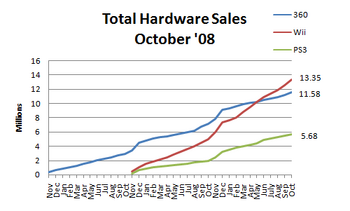 Notable releases
Edit
Guitar Hero: World Tour (PS3, 360, Wii, PS2)
Wii Music (Wii)
Saints Row 2 (X360)
Fable 2 (X360)
Fallout 3 (PS3, X360)
LittleBigPlanet (PS3)
Dead Space (PS3, X360)
Rock Band 2 (PS3)
Hardware sales
Edit
Top 20 software sales
Edit
Fable II (X360) - 790k
Wii Fit W/ Balance Board (Wii) - 487k
Fallout 3 (X360) - 375k
Mario Kart W/ Wheel (Wii) - 290k
Wii Play W/ Remote (Wii) - 282k
Saints Row 2 (X360) - 270k
Socom: U.S. Navy Seals Confrontation (PS3) - 231k
Little Big Planet (PS3) - 215k
NBA 2K9 (X360) - 202k
Dead Space (X360) - 193k
Guitar Hero: World Tour (360) - 191,000
Guitar Hero: World Tour (Wii) - 183,000
Kirby Super Star Ultra (NDS)
Fallout 3 (PS3)
Dead Space (PS3)
Rock Band 2 (PS3) - 118,559
NBA 2K9 (PS3)
Far Cry 2 (360)
FIFA 09 (360)
Guitar Hero: World Tour (PS3) - 96,657
Other sales
Edit
Wii Music - 81K
Guitar Hero World Tour (all SKUS) - 534K [1]

X360 version: 191,000 [2]
Wii version: 183,000
PS3 version: 96,657
PS2 version: 63,462
Rock Band 2 (LTD) - 600K (including September NPD)

X360 version: 119,569
PS3 version: 118,559
Video game revenues
Edit
Total sales: $1.31B
Hardware sales: $494.74M
Software sales: $696.79M
Accessories: $120.19
External links
Edit