NPD sales figures for the United States in the video game industry.
Note: March, June, September, and December are always five weeks of tracking, while the rest are 4 weeks. NPD does 4-4-5 (weeks/month) quarters, so that year on year quarterly comparisons are valid.
For NPD Charts, go to the bottom of this page.
See also
Lifetime sales and records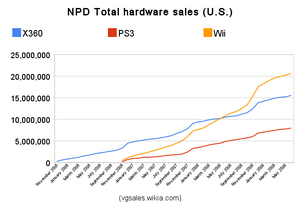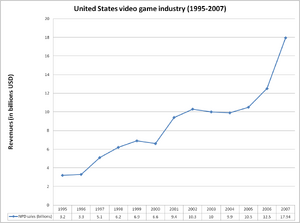 2012
2011
2010
2009
2008
2007
2006
2005
2004
2003
2002 and earlier

Earlier
History of the US video game market
Charts
References
External links
Ad blocker interference detected!
Wikia is a free-to-use site that makes money from advertising. We have a modified experience for viewers using ad blockers

Wikia is not accessible if you've made further modifications. Remove the custom ad blocker rule(s) and the page will load as expected.