NPD sales figures
Talk

2
330pages on
this wiki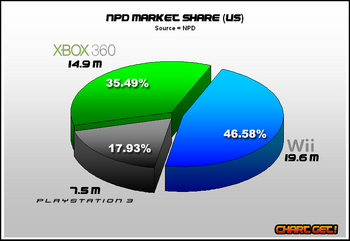 NPD sales figures for the United States in the video game industry.
Note: March, June, September, and December are always five weeks of tracking, while the rest are 4 weeks. NPD does 4-4-5 (weeks/month) quarters, so that year on year quarterly comparisons are valid.
For NPD Charts, go to the bottom of this page.
See also
Lifetime sales and records
2012
2011
2010
2009
2008
2007
2006
2005
2004
2003
2002 and earlier

Earlier
History of the United States video game industry
These figures are for United States only. Some numbers may exclude/include PC games and arcade games.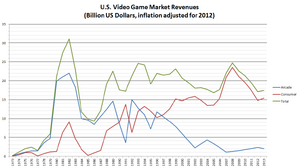 Year
Video game industry
Source
Inflation (2012) [1]
2013
$12.97 billion
[4]
$12.97 billion
2012
$14.8 billion
[5]
$14.8 billion
2011
$16.3 billion
NPD 2011 sales figures
$16.64 billion
2010
$18.58 billion
NPD 2010 sales figures
$19.56 billion
2009
$19.66 billion
NPD 2009 sales figures
$21.04 billion
2008
$22 billion
NPD 2008 sales figures
$23.46 billion
2007
$18.85 billion
NPD 2007 sales figures
$20.87 billion
2006
$13.5 billion
NPD 2006 sales figures
$15.37 billion
2005
$11.45 billion (retail)
NPD 2005 sales figures
$13.46 billion (retail)
2004
$14.5 billion
($11 billion retail)
($3.5 billion arcade)
NPD 2004 sales figures [6]
$17.67 billion
($13.4 billion retail)
($4.27 billion arcade)
2003
$11.2 billion (retail)
NPD 2003 sales figures
$14 billion (retail)
2002
$11.7 billion (retail)
NPD 2002 sales figures
$15 billion (retail)
2001
$11.5 billion ($11 billion retail, incl. PC games)
(GC, GBA, XBX launches)
[2] [7] [8]
$14.91 billion ($14.3 billion retail)
2000
$10.5 billion
($6.6 billion retail, excl. PC games)
[2] [9] [10]
$14 billion ($8.8 billion retail, excl. PC games)
1999
$8.73-$10 billion
($6.9-$7.4 billion retail)
($1.33 billion arcade)
[2] [11] [12] [13]
$12.03-$13.78 billion
($10.2 billion retail)
($1.83 billion arcade)
1998
$8.5 billion
($6.3 billion retail)
[2] [14]
$12 billion ($8.9 billion retail)
1997
$7.5 billion
($5.1-$5.5 billion retail)
[2] [15] [16] [17] [18]
$11 billion
($7.9 billion retail)
1996
$6 billion
($3.9 billion retail)
[2] [19] [20] [21]
$8.8 billion
($5.71 billion retail)
1995
$3.2 / $5 / $5.1 billion (retail)
[22] [23] [24]
$7.7 billion (retail)
1994
$14 billion
($7 billion arcade)
($6-$7 billion retail)
[25] [26]
$22 billion
($11 billion arcade)
($11 billion retail)
1993
$14.5 billion
($8 billion arcade)
($6.5 billion retail)
($1.5 billion cartridge rentals)
[27] [28] [29] [30]
$23.04 billion
($12.71 billion arcade)
($10.33 billion retail)
1992
$9 billion (arcade)
[31]
$15 billion (arcade)
1991
$6 billion
($2.1 billion arcade)
(Arcade Renaissance begins with Street Fighter II)
[32]
[33]
$10.11 billion
($3.54 billion arcade)
1990
$3.8-$5.1 billion (retail, Nintendo accounting for over 90%)
[34][35] [36] [37]
$8.96 billion (retail)
1989
$3.5 billion (retail)
[38]
$6.5 billion (retail)
1988
$9.2-$9.9 billion
($6.4 billion arcade)
($2.8-$3.5 billion retail)
[39] [40] [41]
$18-$19.21 billion
($12.42 billion arcade)
($5.43-$6.79 billion retail)
1987
$750 million (retail)
[42]
$1.52 billion (retail)
1986
$4.43 billion
($4 billion arcade)
($430 million retail)
[43] [44]
$9.28 billion
($8.38 billion arcade)
($901 million retail)
1985
$4.6 billion
($4.5 billion arcade)
($100 million (retail),
(NES and Super Mario Bros. soon begins reviving retail market)
[45] [46] [47]
$9.8134 billion
($9.6 billion arcade)
($213.4 million retail)
1984
$5.3 billion
($4.5 billion arcade)
($800 million retail)
(Arcade Golden Age ends)
[48] [49]
$11.74 billion
($9.94 billion arcade)
($1.8 billion retail)
1983
$9.9 billion
($7.9 billion arcade)
($2 billion retail)
(Video game crash of 1983)
[50] [51] [52] [53] [54] [55]
$22.82 billion
($18.21 billion arcade)
($4.61 billion retail)
1982
$12.8-$15.6 billion
($9-$11.8 billion arcade)
($3.8 billion retail, Atari accounting for nearly 80%)
[56] [57] [58] [59] [60]
$30.45-$37.12 billion
($21.41-$28.07 billion arcade)
($9.04 billion retail)
1981
$10.5-$12.7 billion
($8-$10.2 billion arcade)
($1-$2.5 billion retail)
[61] [62] [63] [64] [65] [66] [67]
$26.52-$32.08 billion
($20.21-$25.76 billion arcade)
($2.53-$6.31 billion retail)
1980
$7.614 billion
($7.15 billion arcade)
($464 million retail)
[68] [69] [70] [71]
$21.22 billion
($19.92 billion arcade)
($1.3 billion retail)
1979
$1.88 billion
($1.5 billion arcade)
($375 million retail)
[72] [73] [74] [75] [76]
$5.95 billion
($4.74 billion arcade)
($1.186 billion retail)
1978
$420 million
($300 million arcade market)
($120 million retail market)
(Arcade Golden Age begins with Space Invaders)
[77] [78]
$1.5 billion
($1.06 billion arcade market)
($423 million retail market)
1977
$400 million
($21 million retail market)
(Video game crash of 1977)
[79] [80]
$1.5 billion
($80 million retail market)
1976
$242 million (retail market)
[81]
$977 million (retail market)
1973
$40 million
[82]
$207 million
1972
Arcade video gaming arrives to US via Pong
Charts
References
External links