The PlayStation (abbreviated PS, PSone, PS1, or informally as PSX) is a 32-bit fifth generation video game console released by Sony Computer Entertainment in December 1994. It is succeeded by the PlayStation 2 in 2000 and PlayStation 3 in 2006. PSOne devkits were only $4,000 [1] Sony stopped producing the console in early 2006, 12 years after its release.[2]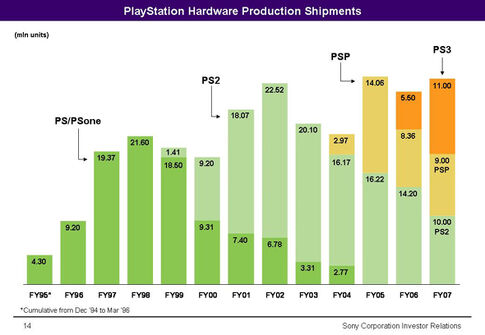 Sales figures tidbits
Edit
Software sales
Edit
Japan sales Playstation 1 Software LTD for Japan
PSX - Dragon Quest VII 3.893.293
PSX - Final Fantasy VIII 3.501.588
PSX - Final Fantasy VII 3.277.776
PSX - Final Fantasy IX 2.707.301
PSX - Gran Turismo 2.186.375
PSX - Resident Evil 2 2.154.975
PSX - Minna no Golf 1.777.895
PSX - Derby Stallion 1.737.819
External links
Edit
References
Edit
Ad blocker interference detected!
Wikia is a free-to-use site that makes money from advertising. We have a modified experience for viewers using ad blockers

Wikia is not accessible if you've made further modifications. Remove the custom ad blocker rule(s) and the page will load as expected.