Ad blocker interference detected!
Wikia is a free-to-use site that makes money from advertising. We have a modified experience for viewers using ad blockers

Wikia is not accessible if you've made further modifications. Remove the custom ad blocker rule(s) and the page will load as expected.

The PlayStation (abbreviated PS, PSone, PS1, or informally as PSX) is a 32-bit fifth generation video game console released by Sony Computer Entertainment in December 1994. It is succeeded by the PlayStation 2 in 2000 and PlayStation 3 in 2006. PSOne devkits were only $4,000 [1] Sony stopped producing the console in early 2006, 12 years after its release.[2]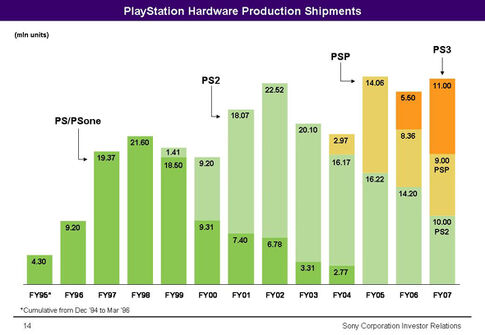 Sales figures tidbits
Edit
Software sales
Edit
Japan sales Playstation 1 Software LTD for Japan
PSX - Dragon Quest VII 3.893.293
PSX - Final Fantasy VIII 3.501.588
PSX - Final Fantasy VII 3.277.776
PSX - Final Fantasy IX 2.707.301
PSX - Gran Turismo 2.186.375
PSX - Resident Evil 2 2.154.975
PSX - Minna no Golf 1.777.895
PSX - Derby Stallion 1.737.819
External links
Edit
References
Edit