PlayStation 3
Talk

0
346pages on
this wiki
PlayStation 3
Released:
U.S. - November 11, 2006


Japan - Nov 11, 2006
Europe - March 23, 2007

Announced
May 16, 2005 (E3 2005)
Generation:
Seventh generation
Price:
PS3 price
Sales figures:
80 Million (as of November 2nd, 2013) [12]
Best selling games:
Grand Theft Auto V - 13.78 million [13]
The PlayStation 3 is Sony's system for gaming's seventh generation. It competes with the Wii and the Xbox 360. It is the successor to the PlayStation 2. It will be succeeded by the PlayStation 4.
Production costs
Main article: Production costs
Since the system's launch, production costs have been reduced significantly as a result of phasing out the EE chip and falling hardware costs. The cost of manufacturing Cell microprocessors has fallen dramatically as a result of moving to the 65 nm production process. Blu-ray diodes are cheaper to manufacture.[1] As of January 2008, each unit costs around $400 to manufacture.[2] Sony lost $3.31B due to pricing its console below production costs.[3] iSuppli's early analysis showed that Sony loses $306.85 per 20GB hard-drive equipped PS3 sold, not including packaging, controller or cables. The 60GB model, which has a $241.35 difference.[4][5][6][7] A new report in December 2008 by iSuppli states the PS3 now costs $448.73 to build while selling for $399 and the PS3 will probably reach the break-even point in 2009.[8] The powerful Cell processor is rumored to have costed $400 million dollars and 5 years to develop.[9] Sony takes a 10% hit on each system sold in Japan, as of March 2009.[10] PS3 manufacturing costs have been greatly reduced as of 2009.[11] Upon the release of PS3 Slim, Sony exec Kaz Hirai stated they are still losing money on hardware alone.[12]
PlayStation 3 sales figures
Main article: Seventh generation of video games
Worldwide sales
Region
Units sold
Worldwide
35.95 (May 2010) [13]
United States
6,790,000 (January 2009) [14]
Japan
3,093,519 (April 2009)[15]
Europe
5 million (May 6, 2008)[16]
Sony expected to sell 6 million units by the fiscal year ending in March 2007.[17] Only 3.68 million were sold, falling short of that mark.
The Japan launch was delayed from a "promised" Spring 2006 release to November due to finalization of the Blu-Ray specification.[18] Upon release in November, there were 81,639 consoles sold but only 66,684 PS3 games sold for it, meaning some consumers did not buy any games for their system and presumably used it for other entertainment purposes, such as for Blu-Ray movies.[19]
According to Sony Computer Entertainment Europe, the PlayStation 3 had outsold the Xbox 360 from October 2007 to May 2008 and in May 2008 it surpassed the Xbox 360 (which was released 16 months prior to the PlayStation 3) in total European sales. Microsoft disputes this.
According to Nikko Citigroup analysts, the PS3 is expected turn a profit on each console sold starting in August 2008.[20] It is not clear if this occurred.
Sony touted its 40% growth of PS3 hardware in 2008 without making a price cut.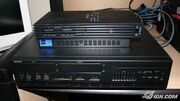 See also: 2009 fiscal year
PlayStation 3 sales figures (based on official financial reports[14])
Date
Quarterly sales
Total sales (cumulative)
Source
Quarter 3 (ending Dec 31, 2006)
1.68M
1.68M (1.84M shipped)
[15]
Quarter 4 (ending Mar 31, 2007)
1.93
3.61 (5 million shipped)
[16]
2007 fiscal year sales
3.61 million
3.61 million
[17]
Quarter 1 (ending Jun 30, 2007)
0.71
4.32
[18]
Quarter 2 (ending Sep 30, 2007)
1.31
5.63
[19]
Quarter 3 (ending Dec 31, 2007)
4.90
10.53
[20]
Quarter 4 (ending Mar 31, 2008)
2.33
12.85
[21]
2008 fiscal year sales
9.24 million
12.85 million
[22]
Quarter 1 (ending Jun 30, 2008)
1.56
14.41
[23]
Quarter 2 (ending Sep 30, 2008)
2.43
16.84
[24]
Quarter 3 (ending Dec 31, 2008)
4.46
21.30
[25]
Quarter 4 (ending Mar 31, 2009)
1.61
22.91
[26]
2009 fiscal year sales
10.06m
22.91 million
[27]
Quarter 1 (ending Jun 30, 2009)
1.1
23.91
[28]
Quarter 2 (ending Sept 30, 2009)
Quarter 3 (ending Dec 31, 2009)
Quarter 4 (ending March 30, 2010)
2010 fiscal year sales
Sony hopes to sell 10 million PS3s for 2009 fiscal year.[29]
Sony hopes to sell 13 million PS3s for 2010 fiscal year.[30]
PlayStation 3 successes and failures
Positives

One of the best first-generation Blu-Ray players
impressive graphics
media capabilities / entertainment center
10 year lifecycle (tbd)
strong potential as price lowers

Negatives

poor launch
increased development complexity, time and costs
price point out of reach for mainstream
poor showing in Japan
PS2 backwards compatibility missing on main SKU
negative profit
SKU confusion
Best selling PS3 games
See also: Best selling games (seventh generation)
PlayStation 3 games that have sold or shipped at least one million copies. (9) (not complete)
MotorStorm (3.31 million) (December 2007)[28]
Metal Gear Solid 4: Guns of the Patriots (3 million shipped) (August 2008)[29]
Grand Theft Auto IV (2.659 million) (January 2009)[30]
Resistance: Fall of Man (2.5 million) (February 2008)[31]
Grand Theft Auto IV (2.139 million approximately: 1.4 million in US,[186][24] 570,000 in UK,[25] 169,000 in Japan)[187])
Gran Turismo 5 Prologue (2.37 million shipped) (June 2008)[32]
Uncharted: Drake's Fortune (1.2 million) (December 2008)[33]
Heavenly Sword (1 million) (May 2008)[34]
MotorStorm: Pacific Rift (1 million) (December 2008)[35]
Ratchet & Clank Future: Tools of Destruction (1 million) (March 2008)[36]
Total PlayStation 3 games sold as of June 30, 2008: 94 million.[37]
United States only
Heavenly Sword - 386k (January 2009)[38]
Lair - 185k
Little Big Planet - 670k
Metal Gear Solid 4 - 1.09m
Motorstorm 1 - 427k
Motorstorm 2 - 138k
Resistance - 1.07m
Resistance 2 - 640k
Uncharted - 534k
Assassin's Creed - 1.15m
Guitar Hero 3 - 830k
Guitar Hero World Tour - 466k
Mortal Kombat vs DC - 512k
Rock Band - 648k
Star Wars Force Unleashed - 464k
God of War 3 - 1.28m
Best selling PS3 games in Japan through January 2009 (source)
Metal Gear Solid 4 - 686,254
Hot Shots Golf 5 - 384,882
Shin Sangoku Musou 5 - 356,266
World Soccer Winning Eleven PES 2009 - 335,163
Dynasty Warriors Gundam - 312,674
Devil May Cry 4 - 310,012
White Knight Chronicles - 300,612
Gran Turismo 5 Prologue Spec III - 283,683
World Soccer Winning Eleven 2008 - 275,069
Yakuza: Kenzan! - 270,438
Sales figures tidbits
United Kingdom:
France:
Australia and New Zealand:
Italy:
Germany:
Spain

October 2007: 250,000 units sold [53]

Canada
Poland
Charts
See also: Category:Charts
References
External links
News articles