Ad blocker interference detected!
Wikia is a free-to-use site that makes money from advertising. We have a modified experience for viewers using ad blockers

Wikia is not accessible if you've made further modifications. Remove the custom ad blocker rule(s) and the page will load as expected.
Playstation Portable (PSP) is Sony's first handheld gaming console. It competes with the Nintendo DS. It will be succeeded by the PSP 2 (temporary name).
The PSP, in Japan, is outselling the Wii and DS from Jan 2008 to April 2008. Strangely, very few games are appearing in the charts, with the only apparent success being the Monster Hunter series. There is uncertainty whether consumers are buying the PSP and pirating games or if they're buying the PSP for it's media and online capabilities.
PlayStation Portable sales figures
Main article: Seventh generation of video games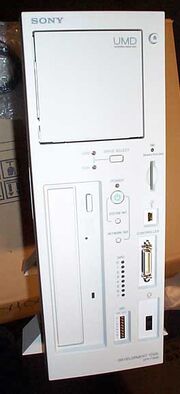 PlayStation Portable sales figures (based on official financial reports[4])
Date
Quarterly sales
Worldwide sales
Source
Quarter 1 (ending Jun 30, 2005)
Quarter 2 (ending Sep 30, 2005)
Quarter 3 (ending Dec 31, 2005)
6.22
15.00
[5]
Quarter 4 (ending Mar 31, 2006 )
2006 fiscal year sales
Quarter 1 (ending Jun 30, 2006)
1.37
Quarter 2 (ending Sep 30, 2006)
1.88
Quarter 3 (ending Dec 31, 2006)
4.68
Quarter 4 (ending Mar 31, 2007)
1.60
2007 fiscal year sales
9.53
[6]
Quarter 1 (ending Jun 30, 2007)
2.13
Quarter 2 (ending Sep 30, 2007)
2.58
Quarter 3 (ending Dec 31, 2007)
5.76
Quarter 4 (ending Mar 31, 2008)
3.42
2008 fiscal year sales
13.89
Quarter 1 (ending Jun 30, 2008)
3.72
[7][8]
Quarter 2 (ending Sep 30, 2008)
3.18
[9]
Quarter 3 (ending Dec 31, 2008)
5.08
[10]
Quarter 4 (ending Mar 31, 2008)
2.13
[11]
2009 fiscal year sales
14.11
???
[12]
Quarter 1 (ending Jun 30, 2009)
1.3
[13]
Quarter 2 (ending Sept 30, 2009)
Quarter 3 (ending Dec 31, 2009)
Quarter 4 (ending March 30, 2010)
2010 fiscal year sales
???
Total worldwide sales (as of January 2009)
51.26 million shipped
[14]
Sales figures tidbits
Worldwide

January 2009: 50 million [15]

Europe:

May 2008: 12 million [16]

United Kingdom:
Japan:
Australia:
Italy:

July 2007: 732.500 units sold (GfK)
December 2007: 900,000 units sold [28]
See also
Charts
External links