Video game industry
Talk

2
327pages on
this wiki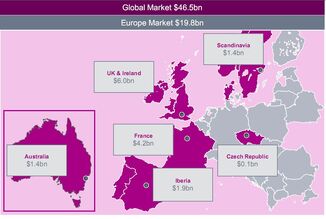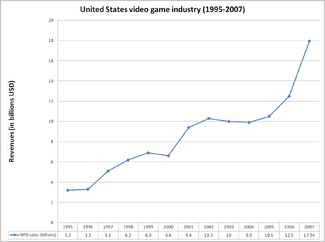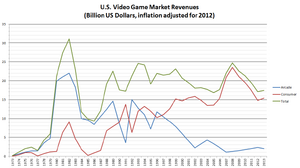 The video game industry (formally referred to as interactive entertainment) is the economic sector involved with the development, marketing and sale of video and computer games to millions of people worldwide. There are over 11 countries with revenues of over $1 billion.[24]
See also Worldwide market in 2008 (revenues)
Overview
Worldwide the game industry in ??? .[25] This number is expected to grow 9.1% annually to $48.9 in 2011 and $68 billion in 2012, making it fastest-growing component of the international media sector.[26][27] In 2004, the worldwide industry generated more than $25.4 billion.[28]
Over a decade before, the US home video game market was worth $7 billion (1994)[29] and $4.7 billion (1990) before that.[30] This period coincided with the arcade renaissance, when US arcades generated $7 billion in 1994,[31] thus the total US market was worth $14 billion in 1994. The total worldwide market was worth $20.8 billion in 1994,[32] equivalent to over $32 billion with 2012 inflation.[33]
A decade before that in 1982, $1.5 billion of revenue was generated from console sales in the nascent US home video game market,[34] just before the video game crash of 1983. The total US console market was worth $3.8 billion in 1982.[35] This period coincided with the golden age of arcade video games, which generated annual US revenues of $8 billion from arcade quarters in 1981[36] and 1982.[37] At the height of the arcade golden age, the worldwide video game industry was estimated to be worth as much as $35 billion in 1981,[38] equivalent to over $88 billion with 2012 inflation.[39]
The worldwide PC-based game market is worth as much as $10.7 billion as of 2008. This number includes retail sales, online revenue, digital distribution and relevant ad sales.[40] In 2011, the PC game market increased to $18.6 billion, largely due to the rise of the $6 billion Chinese PC gaming market.[41] By 2015, analysts predict the global video game industry will reach $91 billion.[42]
Comparison with other forms of entertainment
The U.S. video game industry boomed in the early 2000s and became one of the leading forms of entertainment in terms of total revenue. Presently, the industry is at around $22 billion for 2008 (conservative estimate) in the US and $30 to $40 billion globally. Here is how it compares with other entertainment industries.
It surpassed the U.S. movie and music industry in 2005 and 2007 respectively. In the 2008, the UK industry blew past the music industry and is expected top DVD sales in the near future.[50]
History of video game industry revenues
See also: NPD sales figures for US figures and Video games in Japan for Japan figures
Worldwide video game industry revenues. It is difficult to estimate figures in many countries so some numbers may vary by a few billion dollars.

Year
Video game industry revenue
Source(s)
Inflation (2012)
2012
$63 billion
Reuters [24]
$63 billion
2011
$65 billion
Reuters
$66.2 billion
2010
$62.7 billion
Reuters
$65.88 billion
2009
$52.7-$60.4 billion
[25] [26] [27]
$56.4-$64.5 billion
2008
$54 billion
[28]
$57.46 billion
2007
$41.7 billion
[29]
$46.08 billion
2006
$31.6 billion
[30]
$35.91 billion
2005
$29 billion
[31]
$34.02 billion
2004
$25.4 billion - $31 billion
[33]
$30.81 billion - $37.6 billion
2003
$33.2 billion
$41.43 billion
2002
$31 billion
$40 billion
2001
$26.3 billion
$34.1 billion
2000
$20.22 billion (worldwide)
$27 billion (worldwide)
1999

$32.88 billion (worldwide)

$18.15 billion (Japan)

$8.73 billion (US)

$6 billion (Europe retail software)

$45.31 billion (worldwide)
1998
$30 billion (worldwide)
[50]
$42.17 billion (worldwide)
1997

$22.5 billion (Japan & US retail)

$17 billion (Japan retail)

$5.5 billion (US retail)

$32.2 billion (Japan & US retail)

$24.32 billion (Japan retail)

$7.87 billion (US retail)

1996

$15 billion (Japan & US retail)

$8 billion (US retail)

$7 billion (Japan retail software)

$22 billion (Japan & US retail)

$11.7 billion (US retail)

$10.24 billion (Japan retail software)

1995

$15 billion (global retail)

$5 billion (US retail)

$23 billion (global retail)

$7.53 billion (US retail)

1994

Over $27.8 billion (worldwide)

$20.8 billion (global retail)

Over $14 billion (US)

Over $43.1 billion (worldwide)
1993

Over $27.8 billion (worldwide)

$19.8 billion (global retail)

$14.5 billion (US total)

Over $44.2 billion (worldwide)
1992
$9 billion (US arcade)
[62]
$15 billion (US arcade)
1991
$6 billion (US)
[63]
[64]
$9.85 billion (US)
1990
$13 billion (global retail, Nintendo with nearly 90% market share)
[65]
$23 billion (global retail)
1989
$13.5 billion (global retail)
$3.5 billion (US retail)
[66] [67]
$25 billion (global retail)
$6.47 billion (US retail)
1988
$9.2 billion (US)

$2.3 billion (Nintendo console sales)

$17.82 billion (US total)
1987
$750 million (US retail)
[71]
$1.513 billion (US retail)
1986
$4.43 billion (US total)
$9.26 billion (US total)
1985
$100-$800 million (US retail)
[74]
$212.92-$1.7 billion (US retail)
1984
$800 million - $2 billion (US retail)
[76]
$1.76 billion - $4.41 billion (US retail)
1983

~$8.2 billion (US total)

$5 billion (US arcade)

$2-$3.2 billion (US retail)

~$19 billion (US total)
1982

$12.8-$15.6 billion (US total)

$9-$11.8 billion (US arcade)

$3.8 billion (US retail)

$1.5-$2 billion (US console sales)

$30.45-$37.12 billion (US total)
1981

$30-$35 billion (worldwide estimate)

$10.5-$11.2 billion (US total)

$8-$10.2 billion (US arcade market)

$5 billion (US arcade quarters)

$1-$2.5 billion (US retail market)

$75.77-$88.21 billion (worldwide estimate)

$26.52-$28.29 billion (US total)

1980

Over $3.2 billion (US total)

$2.8 billion (US arcade quarters)

$464 million (US retail market)

Over $9.1 billion (US total)
1979
Over $1.25 billion (US total)

$1 billion (US arcade quarters)

$250 million (US retail market)

Over $4 billion (US total)
1978

Over $1.02 billion  (Japan & US total)

Over $900 million (Japan & US arcade market)

$600 million (Space Invaders arcade cabinet sales in Japan)

$300 million (US arcade market)

$50 million (US arcade cabinet sales)

$120 million (US retail market)

Over $3.6 billion (Japan & US total)

Over $3.2 billion (Japan & US arcade market)

$423 million (US retail market)

1977
$400 million
[101]
$1.5 billion
See also
References
External links
White papers