Video games in the United States. Sales data is covered by NPD..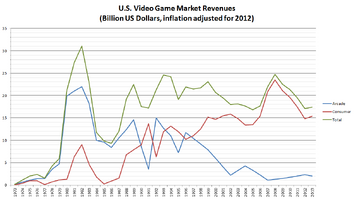 NPD sales figures
Edit
Popular games
Edit
Biggest launches
Edit
According to Nintendo, the U.S. makes up approximately 85% of the Americas sales, which includes Latin America, Canada, and South America. Mexico is the top Latin American market for Nintendo, followed closely by Brazil. [28]
History of the US video game industry
Edit
These figures are for United States only. Some numbers may exclude/include PC games, arcade games, and/or mobile games.

Domestic US market
Edit
Year
Video game market revenue
Reference(s)
Inflation-adjusted revenue (2012 dollars)[1]
2013
$17.39 billion
($15.39 billion consumer market)
($2 billion arcade market)
[2]
$17.39 billion
2012
$17.1 billion
($14.8 billion consumer market)
($2.3 billion arcade market)
[3]
$17.1 billion
2011
$16.6 billion
NPD 2011 sales figures
$17.5 billion
2010
$18.58 billion
NPD 2010 sales figures
$19.6 billion
2009
$19.66 billion
NPD 2009 sales figures
$21.04 billion
2008
$22 billion
NPD 2008 sales figures
$23.5 billion
2007
$18.85 billion
NPD 2007 sales figures
$20.9 billion
2006
$13.5 billion
NPD 2006 sales figures
$15.4 billion
2005
$11.5 billion (retail market)
NPD 2005 sales figures
$13.52 billion (retail market)
2004
$14.5 billion
($11 billion consumer market)
($3.5 billion arcade market)
NPD 2004 sales figures
$17.7 billion
($13.4 billion consumer market)
($4.3 billion arcade market)
2003
$11.923 billion (retail market)[4]
NPD 2003 sales figures
$14.9 billion (retail market)
2002
$14.1 billion
($12.4 billion retail)[5]
($1.7 billion arcade)[6]
NPD 2002 sales figures
$18.03 billion
($15.83 billion retail)
($2.2 billion arcade)
2001
$11.9 billion[7] (retail, incl. PC games)
(GC, GBA, XBX launches)
[8][9]
$15.43 billion (retail)
2000
$11 billion (retail)[7]
($6.6 billion retail, excl. PC games)
[10]
$14.7 billion (retail)
1999
$16.7 billion
($11 billion retail)[11]
($5.7 billion arcade)[12]
[7][13]
$23.1 billion
($15.2 billion retail)
($7.9 billion arcade)
1998
$8.9 billion (retail)[7]
[14]
$12.54 billion (retail)
1997
$14 billion
($7.5 billion retail)[7][15]
($6.5 billion arcade)[16]
[17]
$16.77 billion
($11.43 billion retail)
($9.91 billion arcade)
1996
$15 billion
($8 billion arcade)[18]
($7 billion retail)[19][7]
[20]
$21.95 billion
($11.71 billion arcade)
($10.24 billion retail)
1995
$12.7 billion
($7.9 billion retail)[21]
($4.8 billion arcade)[22]
[23]
$19.13 billion
($11.9 billion retail)
($7.23 billion arcade)
1994
$15.5 billion
($7 billion arcade)[24]
($8.5 billion retail)[25]
$24.2 billion
($11 billion arcade)
($13.2 billion retail)
1993
$15.5 billion
($8 billion arcade)[26][27]
($7.5 billion retail)[28]
$24.63 billion
($12.71 billion arcade)
($11.92 billion retail)
1992
$14.342 billion
($9 billion arcade)[29]
($5 billion console software)[30][31]
($342 million computer software)[32]
$23.5 billion
($15 billion arcade)
($8.2 billion console software)
($560 million computer software)
1991
$8.1 billion
($6 billion retail)[33]
($2.1 billion arcade)[34]
(Arcade Renaissance begins with Street Fighter II)
$13.7 billion
($10.11 billion retail)
($3.54 billion arcade)
1990
$10 billion
($5.1 billion retail, Nintendo 90%)
($4.9 billion arcade)
[35][36][37]
[38][39]
$17.57 billion
($8.96 billion retail)
($8.61 billion arcade)
1989
$11.4 billion
($7.9 billion arcade)
($3.5 billion retail)
[40]
$21.13 billion
($14.63 billion arcade)
$6.5 billion (retail)
1988
$9.9 billion
($6.4 billion arcade)
($3.5 billion retail)[41]
[42][43]
$19.21 billion
($12.42 billion arcade)
($6.79 billion retail)
1987
$1.162 billion (retail)
($1.1 billion console)[44][45]
($62 million computer software)[46]
$2.35 billion (retail)
1986
$4.43 billion
($4 billion arcade)[47]
($430 million retail)[45][48]
[42]
$9.28 billion
($8.38 billion arcade)
($901 million retail)
1985
$4.6 billion
($4.5 billion arcade)[47]
($100 million retail)[49][50]
(NES and Super Mario Bros. begins market revival)
[51]
$9.8134 billion
($9.6 billion arcade)
($213.4 million retail)
1984
$5.3 billion
($4.5 billion arcade)[47]
($800 million retail)[52]
(Arcade Golden Age ends)
$11.74 billion
($9.94 billion arcade)
($1.8 billion retail)
1983
$9.9 billion
($7.9 billion arcade)
($2 billion retail)[52]
(Video game crash of 1983)
[47][53][54]
$22.82 billion
($18.21 billion arcade)
($4.61 billion retail)
1982
$12.8-$15.6 billion
($9-$11.8 billion arcade)
($3.8 billion retail, Atari accounting for nearly 80%)
[55][56][57][49]
$30.45-$37.12 billion
($21.41-$28.07 billion arcade)
($9.04 billion retail)
1981
$10.5-$12.7 billion
($8-$10.2 billion arcade)
($1-$2.5 billion retail)
[58][59][55][60]
$26.52-$32.08 billion
($20.21-$25.76 billion arcade)
($2.53-$6.31 billion retail)
1980
$7.614 billion
($7.15 billion arcade)[47][55]
($464 million retail)[61]
$21.22 billion
($19.92 billion arcade)
($1.3 billion retail)
1979
$1.88 billion
($1.5 billion arcade)[62][63]
($375 million retail)[64][45]
$5.95 billion
($4.74 billion arcade)
($1.186 billion retail)
1978
$1.2 billion
($1 billion arcade)[63][65][66]
($200 million retail)[7][64]
(Arcade Golden Age begins with Space Invaders)
$4.23 billion
($3.521 billion arcade)
($704.3 million retail)
1977
$400 million[67]
($21 million retail)[68]
(Video game crash of 1977)
$1.5 billion
($80 million retail)
1976
$242 million (retail)
[69]
$977 million (retail)
1975
$22 million (retail)
[29]
$94 million (retail)
1973
$40 million
[70]
$207 million
1972
Arcade video gaming arrives to US via Pong
Overseas retail exports
Edit
| Year | Video game market revenue | Inflation-adjusted revenue (2012 dollars)[1] |
| --- | --- | --- |
| 2004 | $2.1 billion[71] | $2.55 billion |
| 2000 | $3.05 billion[72] | $4.07 billion |
References
Edit
↑ 1.0 1.1 CPI Inflation Calculator. Bureau of Labor Statistics. Retrieved on 2012-02-22.
↑ US, 2013

Consumer market: $15.39 billion
Arcade market: $2 billion

↑ US, 2012
↑ $11.2 billion sales, $723 million rentals
↑ $11.7 billion sales, $690.62 million rentals
↑ NPD 2002 sales figures $12 billion (console & arcade) - $10.3 billion (console) = $1.7 billion (arcade)
↑ 7.0 7.1 7.2 7.3 7.4 7.5 7.6 Yuko Aoyama & Hiro Izushi (2003), Hardware gimmick or cultural innovation? Technological, cultural, and social foundations of the Japanese video game industry, Research Policy 32: 423-44
↑ NPD Reports Annual 2001 U.S. Interactive Entertainment Sales Shatter Industry Record, Business Wire (February 7, 2002)
↑ Video Games, Drugs, and The 'New Violence' (Fall 2000)
↑ 'Dancing Arcade Game' Draws Huge Crowds (December 4, 2000)
↑ Spielberg's Arcade of the Future (March 12, 1997)
↑ Om Malik (9/19/1997), The Game: Sony PlayStation versus Nintendo64, Forbes
↑ Business Week, Issues 3392-3405, p. 58, 1994
↑ $7 billion sales, $1.5 billion rentals
↑ Patricia Ann McKanic (March 24, 1994), Video values, Lakeland Ledger
↑ http://news.google.com/newspapers?nid=1842&dat=19940403&id=8UoeAAAAIBAJ&sjid=DccEAAAAIBAJ&pg=1756,337084
↑ $6.5 billion sales, and $1.5 billion rentals
↑ http://news.google.com/newspapers?nid=1314&dat=19931101&id=9QQSAAAAIBAJ&sjid=5PADAAAAIBAJ&pg=5433,116151
↑ https://archive.org/stream/Electronic-Games-1993-06/Electronic%20Games%201993-06#page/n15/mode/2up
↑ Video-Game Industry May Be Hit With Revolt By Parents (December 23, 1992)
↑ Tracy Johnson (April 3, 1992), Are Arcades Archaic? Business down, owners add zip and zap to lure players, Boston Globe
↑ Encyclopedia of New Media, p. 198
↑ http://nl.newsbank.com/nl-search/we/Archives?p_product=MH&s_site=miami&p_multi=MH&p_theme=realcities&p_action=search&p_maxdocs=200&p_topdoc=1&p_text_direct-0=0EB342D8DFB4F4B8&p_field_direct-0=document_id
↑ http://www.nytimes.com/1990/12/08/business/waiting-for-the-zapping-of-nintendo.html?pagewanted=2&src=pm
↑ $7.9 billion arcade, $3.5 billion retail
↑ NEC Tries to Zap Nintendo In the Video Game Market, The New York Times (May 24, 1989)
↑ 42.0 42.1 Video Games Are an Exercise In Annihilation, The Atlanta Journal and The Atlanta Constitution (May 30, 1989)
↑ Lisa Holton (June 5, 1989), Firms nip at Nintendo's heels, Chicago Sun-Times
↑ http://news.google.com/newspapers?nid=2199&dat=19881107&id=eFoyAAAAIBAJ&sjid=9eUFAAAAIBAJ&pg=6920,1808799
↑ 45.0 45.1 45.2 Nintendo revives video games, The Press-Courier (July 30, 1989)
↑ 47.0 47.1 47.2 47.3 47.4 Video Game Myth Busters - Did the "Crash" of 1983/84 Affect Arcades?, The Golden Age Arcade Historian (December 27, 2013)
↑ http://news.google.com/newspapers?nid=1665&dat=19890730&id=qKIbAAAAIBAJ&sjid=R04EAAAAIBAJ&pg=5459,6856521
↑ 49.0 49.1 Nintendo Scores Big, p.2, The New York Times (December 4, 1988)
↑ 55.0 55.1 55.2 [http://vidgame.info/arcade/ Chronology of Arcade Video Game]
↑ Everett M. Rogers & Judith K. Larsen (1984). Silicon Valley fever: growth of high-technology culture. Basic Books. p. 263. ISBN 0-465-07821-4. http://books.google.co.uk/books?id=frYrAAAAYAAJ

. Retrieved 2011-04-23

. "Video game machines have an average weekly take of $109 per machine. The video arcade industry took in $8 billion in quarters in 1982, surpassing pop music (at $4 billion in sales per year) and Hollywood films ($3 billion, $10 billion if cassette sales and rentals are included). Those 32 billion arcade games played translate to 143 games for every man, woman, and child in America. A recent Atari survey showed that 86 percent of the US population from 13 to 20 has played some kind of video game and an estimated 8 million US homes have video games hooked up to the television set. Sales of home video games were $3.8 billion in 1982, approximately half that of video game arcades."
↑ Encyclopedia of New Media, p. 197
↑ 64.0 64.1 Customers getting pickier about electronic games (December 16, 1980)
↑ The Video Game Invasion (December 18, 1981)
↑ Electronic Toys Taking A Beating (December 17, 1980)
↑ TV Games Probed, Reading Eagle (December 21, 1976)
↑ Magnavox Sues Firms Making Video Games, Charges Infringement‎, Wall Street Journal (April 17, 1974)
↑ 45% of European market ($6.78 billion) = $3.05 billion